Ten Easy Changes You Can Make to Lose Weight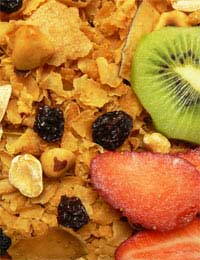 Many of us want to lose weight, but don't really know how. Some of us start strict diet plans, then find them impossible to follow and give up. The best way, by far, is to make little changes to your lifestyle which you can actually keep.
If you are interested in making a change for the better, read on. Here are ten changes you can make to your everyday lifestyle which will spur you on to lose weight, be healthier and, ultimately, live a lot longer…
Ten Easy Changes
Don't be discouraged if you cannot incorporate all these ten changes at once, or if you backslide a little bit on your way towards a new you. Allow yourself a bit of leeway, and soon you'll find that eating better and exercising more has become part of your daily lifestyle, without too much effort on your part at all…
1. Eat breakfast. The old adage is true: breakfast is the most important meal of the day. Skip it, and soon you'll be feeling those old familiar hunger pangs. Then you'll do what most of us do – reach for the closest thing within reach, whether it's a chocolate croissant, breakfast bagel or traditional fry-up. Eating porridge, with its slow-release carbs, along with fresh fruit will fill you up for longer and is by far the better option.
2. Eat better. Don't just eat any old thing, eat well. Simple rules for healthy eating are: eat low-fat foods that have some monounsaturated and polyunsaturated fats and are low in saturated and trans-fats, cut down on salt, eat lots of oily fish and less red meat. Pile on the fruit and veg, drink plenty of water and avoid pre-processed foods, including fast food, ready-meals and takeaways.
3. Eat less. Many people claim they eat only healthy food, yet they cannot understand why they are dangerously overweight. The reason might lie not in what they are eating, but in how much they are eating. If you cannot reasonably fathom how much you should be eating, buy a portion plate. If you are still hungry an hour after your meal, fill up on healthy snacks (see below).
4. Take it easy – and keep a food diary. Be good to yourself and don't beat yourself up every time you veer off track, but keep a food diary for at least the first few weeks of your healthy eating plan. That way you can look back and see where you've gone wrong –and where you've gone right.
5. Drink plenty of water. Never underestimate the importance of the old H2O. Water hydrates us, aids our digestion, and gives us radiant skin. For some people, it wards off headaches and give them better outlook on life overall. It also helps to fill us up and eat less. What's not to like?

6. Keep full and snack a lot - with healthy snacks. Dieting is no fun, which is why you should never diet. Instead, you should try to eat healthily – all the time. That means having at least three small, regular, healthy meals a day, and in between keeping full with plenty of water and healthy snacks, such as low-fat yoghurts, fruit and veg. Nuts that are high in unsaturated fats, such as peanuts and pistachios, are also good –within reason.
7. Allow yourself an occasional indulgence. Don't be a slave to your diet. Eat something you love from time to time, but don't; just gulp it down; take the time to savour every mouthful. You'll enjoy it more and look forward to the next treat.
8. Walk more. Leave your car at home and walk. Get off the Tube one stop early and walk. Walk to the shops. Walk in the evenings. Buy yourself a decent pair of walking shoes, get off your backside and walk! You'll be surprised at how much better you'll feel.
9. Take the time to do something you love. There's no use joining a gym when you know you're going to absolutely despise every minute you're there. Instead, sign up for something you actually like to do. You might want to join a walking group, sign up for water aerobics, or go on a rambler's holiday. Meeting other like-minded people will spur you on.
10, Reward yourself and build up your confidence. Know that you are trying your best and that eventually you'll get there in the end. Many people set themselves "all or nothing" goals and then fail and give up. Cut yourself some slack and keep on going.
Losing weight and becoming healthy is all about changing bad habits and looking positively toward the future. With a little guidance, there is no reason why you cannot shed those pounds – slowly and carefully – and start seeing a whole new you! Remember, consult your GP before embarking on any new diet or exercise plan.
You might also like...