Maintaining a Healthy Diet When Breast-feeding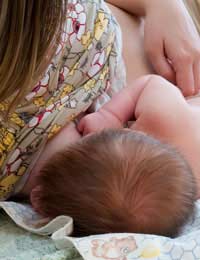 Many women mistakenly believe that when they give birth, their careful eating habits can go out the window. But if you are planning to breastfeed, maintaining a healthy diet is important.
Your baby will get the full nutrition of your breast milk no matter what you eat, but if you eat too little, or if you eat certain foods that are irritants, he or she may suffer.
Women who breast-feed should also avoid drinking too much alcohol, and should have water on hand when they are breastfeeding, as many find it makes them thirsty. How much liquid you consume will not affect your milk production.
Allergies and Irritants
As women breastfeed, some notice that certain foods seem to irritate their babies, upsetting their digestive tract or affecting their natural sleep patterns. Common culprits are vegetables such as cauliflower and cabbage, which can give some babies wind, and caffeinated drinks such as coffee, tea and some fizzy drinks.
Coffee, for example, may have the same effect on a baby as it does a grown-up, and you may find yours finds it difficult to sleep if you've had too many cuppas. In that same vein, some babies sleep well if you've had a glass of wine.
If your baby seems irritated by certain foods, keep track of what you eat and then cut them out of your diet, to see if there is any improvement. What bothers one baby may not bother another, so it's a case of trial and error.
Food Allergies in Babies
Occasionally, the effect of something you eat has a more profound effect than inducing colic or wind. Dairy, peanuts, egg, wheat and soya can all trigger allergies in babies, although experts say only about four per cent are affected.
If you have severe food allergies, or if there is a family history of them, it is advised to avoid giving them to your baby in the first year of life, and that includes within your breast milk.
Keep in mind that siblings often do not have the same allergies. So if you have a family history of peanut allergies but your first child has no allergies whatsoever, your second child might still have them. Be vigilant.
Resist the Urge to Diet
Many women wonder if following a diet while breast-feeding can harm their baby. While losing the pounds put on during pregnancy is a priority for many new mums, going on a diet while breast-feeding is not a good idea.
Health professionals recommend that healthy eating, combined with regular, moderate exercise, is the best way for new mums to lose weight after pregnancy.
Slow and steady is the way to go. Losing weight too rapidly can release toxins stored in the bloodstream into the body, which can enter the breast milk and harm your child.
Healthy Eating Habits for Life
Some experts recommend that a breast-feeding mum needs to up her food intake by 500 calories a day. But most people agree that it's not the calories that matter, it's what you eat.
Women who breastfeed should build the following foods into their daily diet, a diet which can be the foundation of healthy eating for life:
Complex carbohydrates
Vegetables, such as beans, cauliflower and broccoli
Wholegrains, such as brown rice and wholemeal bread
Dairy products, such as low-fat milk and yoghurt (you need about 1,000 mg of calcium a day whilst breastfeeding, which can come from dairy or other foods such as broccoli and tofu)
Fish and lean meat or chicken
Having a healthy diet while you breastfeed is not only healthier for your child, it can help you shed those post-pregnancy pounds. Taking your ante-natal vitamins after you give birth is also a good idea – so don't chuck them away!
You might also like...