Eating Healthily to Lower Blood Pressure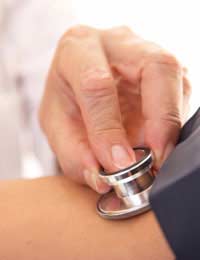 What you eat – and how often you exercise - can have a real effect on your blood pressure, and can even lower it. High blood pressure can be a major contributor to heart attack and stroke, so reducing it can have a huge impact on your health.
If you have high blood pressure already, making changes to your diet and keeping it healthy can bring it way down. And if you take medication for high blood pressure, a healthy diet can reduce the amount you take – or even make taking it unnecessary altogether.
Cutting Down on Salt
Eating too much salt means your body retains more water. When that happens, your blood pressure can go up, which can be a problem for people prone to high blood pressure. It is recommended that the average adult eat no more than 6g of salt per day, but a lot of us eat more than that.
There are simple ways to cut down on your salt intake. Always read the labels on food, and avoid foods that contain 0.6g of sodium per 100 grams of food per more. Try to avoid using salt when cooking, and look for low-salt recipes.
Be aware of hidden sources of salt as well. Sauces such as ketchup can be high in salt, as can smoked fish and bacon. Go for low-sodium substitutes if you can't live without salt, such as low-sodium salt and soy sauce.
Eating More Fruits and Vegetables
Fresh fruits and vegetables not only contain nutrients your body craves, but they are also a good source of potassium, which can combat some of the negative effects of salt in your body.
At least five portions of fresh fruit and veg are recommended in a daily adult diet. Certain starchy foods do not count, however, such as potatoes, sweet potatoes and plantains.
If you are not a huge fruit and veg fan, try unique ways of incorporating them into your diet. Make a fruit smoothie for breakfast, snack on dried fruit, drink more fruit juice. Lentils and beans fall into the veg category, and they are a good source of fibre as well. Make a hearty pot of vegetable soup – but without the salt!
Drinking Less Alcohol
Alcohol is a big contributor to high blood pressure. Not only does drinking a lot of it raise your blood pressure over time, but it can also make you overweight, which can raise it as well.
Keeping to the Government's recommended limits of alcohol consumption per week is the best way to ensure you are within the right framework when it comes to the booze. That is no more than 21 units a week for men, 14 for women.
A pint of normal strength beer counts for two units, as does a medium glass of wine. If in doubt, ask your GP to provide more information about what is the best alcohol intake for you.
Trying low-alcohol drinks might be one way to cut down, or allowing yourself a small amount three nights a week only. Be careful that you don't munch away on salty peanuts or crisps as you drink!
Exercising Regularly
Regular exercise has myriad health benefits. Not only does exercise make your feel good and look good, it also can help keep your blood pressure within normal, healthy means.While blood pressure can get higher with age, tests have shown that people who exercise can see their blood pressure go down, even within just a few weeks.
That's because exercise strengthens the heart, which means it pumps blood more easily. Then the force put on your arteries decreases, and your blood pressure goes down.
If you have not exercised regularly in the past, or have not exercised for a long time, ask your GP first before you start. He or she can prescribe guidelines to get youstarted, and then you're on your way to a healthier new you!
Doing it Naturally
Eating foods that are naturally low in sodium, avoiding salt in other foods, cutting back on alcohol, having lots of fresh fruits and vegetables and taking regular exercise are all keys to lowering blood pressure naturally.
If you can avoid too much red meat, only have low-fat dairy products, incorporate lots of fibre into your diet and drink plenty of water, you'll see loads of other health benefits as well, besides lowering your blood pressure. It's all up to you!
You might also like...