How I Lost Eight Stone Through Holistic Dieting: A Case Study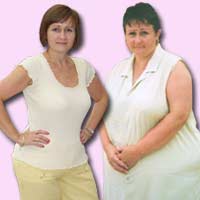 When Julie Harrold weighed 19 stone and had to buy size 30 clothes, she felt numb.
"If you had seen me on the outside, I was a very happy person. At work I used to always laugh and joke. But deep down I always felt very insecure about myself," says Julie, 43, an exams officer from Northampton.
"I always sought the approval of others because I thought I didn't fit in because of my weight. It's a classic scenario. I felt as if nobody could like the fat person."
Along with her low-self-esteem, Julie's health was suffering too. "I went to the doctor because I was having palpitations and my blood pressure and cholesterol were raised. It was all down to being overweight.
"I'd wake up in the morning with headaches and I thought it was because I was stressed. On flights they had to add an extension on the seatbelt because I was so large. I was miserable, I never had any time for me, and I needed to re-analyse my life."
Baby Fat
Julie, whose three children are now aged 20, 18 and 16, said she was never really overweight until she met her husband Peter, 44, a lift engineer. "Before I had kids I felt I needed to lose a bit of weight but not massively. You get into a comfy relationship and think, I don't need to attract a man anymore. You get a bit complacent."
Her weight began to spiral out of control when the children came along. "I had them fairly close together and never lost the baby weight. I also had quite a sedentary lifestyle with an office-based job, and I'm quite phobic about exercise," she says.
"When the kids were younger I was busy feeding them, looking after them and doing the school run, and my eating habits went out the window. For a while I worked nights, which throws the body clock out, and then I started comfort eating. When you're a bit stressed, the easiest thing to do is have a biscuit or some chocolate."
But when Julie turned 40, the mum of three vowed to set herself some goals. One was to lose weight.
Something for Herself
"In August 2006 I decided right, okay, I'm 40 now and going to do something for me. As it happened, my credit card company had upped my credit limit. I couldn't spend it on anything I particularly enjoyed like clothes, and even shoes were as struggle as even your feet get fat," she says.
"So I thought, what should I do with this money? Then I remembered hearing about Sureslim from a colleague. I had just tried Paul McKenna's hypnotism to lose weight and it failed abysmally, so I put the SureSlim programme on my credit card. The rest is history."
Julie went for an initial consultation where she had blood and cholesterol tests done, and a tailor-made food plan was made for her. "They give you lists of food in various categories: proteins, low-carb food, veg, things you aren't allowed to have. I wasn't allowed bread, rice, pasta, all high-carb foods. Certain fruits I thought would be okay I wasn't allowed either, like bananas."
As she was on a quick-loss plan she was also told not to exercise, to eat three meals a day with no snacking, and to drink at least two litres of water a day. "I thought I would struggle with it but it came easily. At first I went to the loo all the time, then it became routine.
Holistic Plan
"In the first month I was also going every week for a consultation, which was included in the price. It's a bit like counselling, one-to-one, completely private. You get weighed and measured: chest, waist and hips. You might not lose pounds but inches."
"It's kind of a holistic plan in a way, its all about teaching you to adapt your eating habits and how you think about food. But you have to be in it in the long haul."
"When I started the plan it was like a detox, it was amazing how quickly I felt so much better within myself. I felt so much brighter, the headaches had virtually gone just because of proper eating and drinking lots of fluids, and because I wasn't bombarding my system with caffeine and lots of sugar and carbs."
"Then I went on a maintenance plan, where you start to exercise. Now it's a way of life, not just something you can do then go back to normal. You have to change your whole thought process about eating, and what you do with food."
In the first nine months, Julie lost six and a half stone. "It was a bit of a slog to get down to the last stone and a half, but all in all I managed to lose eight stone in total. I now weigh 11 stone," she says proudly.
"It has really kept me focused, and has made me feel so much better about myself inside and outside," says Julie, who's now a sleek size 12.
"I've had to buy two new wardrobes to fit all my clothes in, before I could have fitted them all in one carrier bag. Now I love clothes in really bright colours and I cannot stop shopping. It's costing me an absolute fortune in clothes!"
You might also like...