I Lost Half a Stone a Month: A Case Study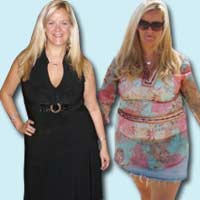 Louise Rowlands has been overweight ever since she can remember, beginning from the age of eight. "I think it's because we moved to the countryside out of Liverpool, and we were eating a lot more, school dinners were nicer, and I just developed a huge appetite," she says.
"I was always eating a lot of food, which I am predisposed to as my father and grandmother are both big people. I just ate a lot, there's no getting away from it!"
Louise, now 33, tried lots of diets throughout her teenage years, successfully and unsuccessfully. "When I was 16 I did the 600-calorie-a-day diet. Although I was only 11 stone, pressures were greater at that age. I'm 5ft 7in tall, now I think 11 stone was my ideal weight!
"At my largest, however, I've was 15 and a half stone and a size 20, and I sort of got away with it. I've always had a slim face, but deep down I knew I needed to shed the pounds."
Bad Habits
Louise works in an office in northwest London as an account director, and she said that her bad eating habits at work contributed to her weight gain.
"I'd get into work and eat as late as I could as I thought I was benefiting from that, but it probably meant I ate more. I would have a bacon sandwich or something to start off, then I'd snack. When you work in a busy office, there's always something to snack on!
"Then I'd eat lunch. I am a big emotional eater, but it's never chocolate, it's always cheese or something carbohydrate-based. I'd have a jacket potato with butter and cheese and feel bad afterwards, but later I'd eat a cheese toastie.
"For dinner I'd have a homemade curry or something but with several glasses of wine, probably at least 600 calories in wine alone per day. I think I probably took in about 3,000 calories daily, maybe more.
"I'd eat a lot but never really admit it. Most overweight people think they eat a lot less than they do."
New Diet Plan
Finally Louise, who is always one to try a new diet, heard of weighttogo, an 850-calorie-a-day diet plan where food is delivered to you, which you then supplement with fresh fruits and vegetables. Part of its appeal is that it promises quick results.
"At Weightwatchers you can eat anything you want but have to count the points. It allows you to eat a lot of calories, so it takes a long time to get the weight off.
"But weighttogo is low-calorie, so you get quick results. The doctor who developed it has written papers saying there is no medical evidence that the quicker you lose it the quicker you put it back on. It's a myth.
"Most diets want you to put weight back on. That's how they make their money."
From Size 20 to Size 14
Louise has managed to lose half a stone a month on the diet, and is now down to a sleek size 14 weighing 12 and a half stone, although she says she still has a stone and a half to go.
These days, a typical day starts with a protein shake with fruit for breakfast. "That was a massive hurdle but I had to get on with it, " she laughs. She then has soup for lunch and a pre-prepared proper meal for dinner – her favourite is braised beef, which comes in a pouch.
It may sound unpleasant, but Louise says it's delicious. "I am a real foodie and if it didn't taste good it wouldn't work for me.
"In fact, the whole diet is very doable. It's all done for you which is brilliant, and it trains you into knowing you can survive on 1,000 calories a day.
"I'm not eating any rubbish but loads of veg and fruit. This evening I'll stir-fry veg with water and as many spices as I want, and put that with a pre-made chicken curry."
Louise took December and part of January off, to attend festive parties and travel on holiday to India. She's now back on the diet full-time.
"I had a break for almost six weeks, and didn't put back any of the weight I lost. This diet trains you to think you don't need to eat that great big jacket potato. And it trains you not to go out to eat and order a lot, you may share a starter or just have a main instead of a starter and a main.
"The last time I weighed this much I was 17. I've gone down from size 20 to size 14, and feel totally different. I had a black leather dress made in India which I wore on New Year's Eve. I don't even know what size I'll be next New Year's!
"My friends say I'm more laid-back and less emotional. I don't think one realises how much weight controls how you feel about everything.
"Basically, I've stopped thinking like a fat person."
You might also like...