How I Kept Slim Through Exercise: A Case Study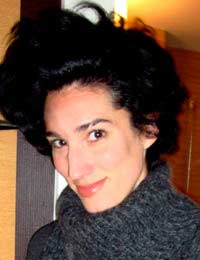 Rebecca Taghioff used to be able to eat whatever she wanted. Until she turned 30, almost exactly six years ago.
"Genetics were really good to me. Then I had two kids and that all went out the window," says Rebecca, now 36, who's almost six feet tall.
"When I started gaining weight, I began to walk a lot more. Now I go to the gym three days a week, where I have a personal trainer, and to a yoga studio once weekly.
"I do weight training and boxing at the gym, but I can't do weights and not stretch, so yoga does that for me.
"I feel healthy, and I feel good that I look good."
Extra Pounds Mean Nothing
Rebecca says she has no idea what her weight is – but that she no longer cares. "I don't even know what I weigh but I'm a size 10, which is great for my height," she says.
"However, I don't exercise for aesthetic reasons alone.
"I really love exercising, but I started doing it because I have my father's Portuguese temper, and exercise is cheaper than therapy!"
Rebecca, a stay-at-home mum who moved to London from Los Angeles several years ago, is adamant that her exercise regimen keeps her sane - and she wouldn't have it any other way.
"For me, if I don't work out I'm just not a very nice person, I'm just miserable. The lack of sun in London adds to that feeling, and exercise helps.
"I used to not need to exercise so much but now not having that Vitamin D naturally makes me look for other ways to feel better."
Following a Simple Routine
Rebecca now has a set exercise routine that she follows religiously. "For the first half hour it's weights. One day I do legs, the second day I do arms, the third time chest and back.
"Then I do boxing, sometimes I get on my big gloves and I spar with my trainer. It's horrible, I feel like I am trying to swim on land.
"I prefer it when I am on the pads and he tells me what to do and I follow. Then it's totally controlled and I can focus and hit super hard, which feels really good. That's when I get all my stress out!"
Rebecca says her health regime also includes trying not to eat foods that affect her moods, and cutting out coffee. "That helped me feel better substantially, as I don't feel so stressed out," she says.
"I used to drink coffee all day long, and I tried to go down to one cup a day and that didn't work. I had to cut it down altogether. If I was in a sunnier climate I wouldn't have had to do that."
Taking Time Off
Recently, Rebecca went on holiday and did little exercise for three weeks. "I felt okay but I gained about four pounds," she says.
"I plan to just work the weight off naturally, not diet or anything. I am sure the pounds will come off when I am back on my routine.
"It's normal for me, every time I stop exercising I gain weight. But exercising is not about the weight or about being able to fit into my trousers. "
"It's about feeling strong, making me feel confident, and relieving so much stress."
"I believe when a woman hits her 40s she has to start doing weights anyway, it's the most important thing a woman can do for herself."
Fitness for the Family
Rebecca's husband also exercises, concentrating primarily on a cardio fitness regime. "He likes to stay active as well, which is great," Rebecca says. Her children are still too young for the gym, although they stay active.
"However, it take a lot to get into it. People who start exercising for the first time don't understand that it isn't easy at first, but that it does get better. You just have to keep up with it.
"For me, there is always a target area that I need to work on. It changes which is good, that means I am hitting my target. It means I'm not going to stop."
You might also like...