A Carb-Free Diet Gave Me More Energy: A Case Study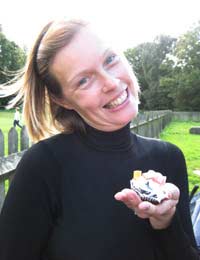 Although nobody would ever dream of calling Monica Nilsson "fat", she was far from happy with her tummy – the result of having three daughters in quick succession, including a set of twins.
"I had tried lots of diets before but nothing worked," says Monica, 42, who used to work in marketing but is now a full-time mum. "I was still left with a spare tyre around my middle, what I call love handles. I hated them."
Monica's husband had tried a carb-free diet several times with great success, losing almost three stone at a time. Although he unfortunately put the weight back on when he began eating carbohydrates again, Monica thought she'd try the same regime.
Similar to Atkins
The diet, similar to the Atkins diet, relies on the principle that you can reset your metabolism by restructuring the food you eat, concentrating on proteins such as nuts, seafood and lean meat.
It says that since crabs are so easy for the body to burn up, you never end up burning your own fat reserves, so the weight stays on. Solution: do not eat carbs.
"The first week was by far the most difficult," recalls Monica, who lives in north London. "I didn't eat any carbohydrates at all, or at least very very little, maybe half an apple or half a tomato.
"The more you get into the diet the more carbs you can have. Like one slice of bread or a small serving of pasta.
"And as you get even deeper and deeper into the diet, you can have a little bit more. Like half a cup of whatever is carb-rich, such as red peppers, onions etc."
Avoiding All Carbs
Monica says she was surprised by how many foods she thought she could eat without reservation were actually very high in carbs.
"Most green vegetables do not have a very high carbohydrate count, but things like apples do as they are so high in fruit sugar. What you can eat requires a bit of research – but it does work!"
While the first week was difficult, Monica says that when she went into week two she already felt remarkably different.
"The first week is not pleasant. Your blood sugar is very low and I felt very grumpy. I felt very low myself and tired, so the only good point was that I slept well," she says.
"But after week number one I had so much energy, and I wasn't hungry at all.
"I had scrambled eggs in the morning, along with salami with a piece of cheese rolled up inside, and I could have as much coffee and tea as I wanted. And if you have to have milk in your hot drink you need to drink full-fat cream. It sounds crazy but it works.
Full of Energy
"Very quickly I wasn't craving carbs anymore, and I was full of energy. The energy came from the ketosis going on in my body, it was like I was burning up my own fat.
"I just felt great, and everyone kept telling me that I was glowing and that I looked so energised. And I was sleeping so well that I felt even more energetic."
Monica has been on the carb-free diet twice. Last time she went on it for three weeks and lost almost a stone. "The spare tyre around my belly almost disappeared, but then I went off the diet," she says.
"I am back on it now, and am eating really well. I eat lots of salads with chicken, cheese, green veg like broccoli and asparagus and beans, and things such as eggs with Hollandaise sauce.
"You can make delicious soups. Tonight I had salmon with broccoli and egg and salad. You can eat a lot and feel full. And eventually you don't feel that hungry.
"After week one you can also start exercising, so I am doing gentle exercise such as yoga, going on my exercise bike and taking long walks.
"Exercise and doing this diet is the best. You can turn it into a lifestyle choice, and once you do it over a long period of time you can allow yourself a day off, when you have a croissant, a glass of juice or ice cream. That boosts it even more.
"My friend has lost about two stone in a couple of months. She is allowing herself carbs every Saturday, she has a croissant or some chips. Then she is really good the rest of the week.
"That's not a bad idea!"
You might also like...