Low-fat Diet: I Lost Half a Stone in a Month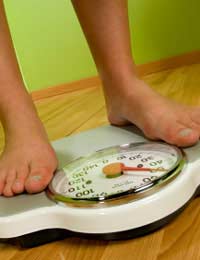 When Gareth Potter started running a few times a week several years ago, the regular exercise routine piqued his interest in fitness. So when he noticed he had slightly elevated blood pressure, he made a visit to his GP.
His GP decided to do other tests on Gareth as well as a blood pressure check, including checking his cholesterol. That also appeared to be very slightly elevated, much to Gareth's surprise.
"I'm not sure there's much I can do about my slightly elevated blood pressure, as it seems to be a family thing," says Gareth, who turns 50 this year and is a video editor from south Yorkshire.
"But then I thought, why not try to do something about my cholesterol level, which is another risk factor for some possible cardio-vascular event I might suffer from.
"Most of the literature I've read suggested that your saturated fat intake contributes to toward bad cholesterol, and thus high blood pressure, so I decided to reduce my saturated fat intake."
Saturated Fat vs Regular Fat
While we all need some fat in our diets, most experts agree that saturated fat is on the whole bad for us, while unsaturated fat is not.
Saturated fat comes from foods such as butter and other full-fat dairy products such as most hard cheeses, certain types of oils, sweets, pastries and chocolate and many processed foods such as sausages and crisps.
If you have a diet full of saturated fat, you can increase your risk of certain illnesses, such as heart disease, stroke and atherosclerosis.
At 5'9" and 11 stone, Gareth was far from overweight. But he decided to cut down on fat anyway, not to get trimmer but to reduce his cholesterol levels.
"It's not about fat, it's about saturated fat. I just choose things that are low in saturated fat, not necessarily fat," he explains.
"I used to like cheese and biscuits in the evening with a glass of wine, but I now have nuts and raisins instead.
"So I switched from eating cheese to eating nuts, as a treat. And when I buy a sandwich in Pret a Manger when I'm working in town, the saturated fat content is listed. So I just choose the ones that I like that are low in saturated fat."
More Exercise
Apart from making a change in his diet, Gareth also made a small change to his regular exercise regimen.
"Once you start making an effort about one thing, you tend to make other efforts as well. When I exercise, for example, I exercise a bit harder, meaning that I run a bit longer or faster.
"I am having another blood test in six months' time to see if it's helped. I don't know at the moment if it has. But I have certainly lost a bit of weight, about half a stone in a month.
"I am sure that the weight loss is the result of eating less fat, and maybe exercising a bit harder as well, and I'm pleased as my jeans do fit a bit better.
"I wasn't overweight anyway, but I feel better. And my wife Linda says I have the body of a young boy – I don't know ether that's a good or a bad thing!"
Another Blood Test
Gareth says he doesn't know what his blood test will show next time around. "In the end my cholesterol levels might be exactly the same, I don't know yet," he admits.
"I've also looked into reducing my salt intake in relation to my blood pressure, of course, but there seems to me very little robust evidence that salt does actually contribute to high blood pressure.
"What I did notice, however, is that by trying to cut out salt, you eat more healthily anyway as there is a lot of salt in processes foods, basically. So I probably have lowered my salt intake just by eating more healthily.
Less Alcohol
Gareth also said he has also cut down on drinking – or at least changed his drinking habits. "I used to not drink much during the week, if anything, then drink as much as I like at the weekends, probably 28 units or alcohol.
"But that's not the point. At my age, I think it's better to drink in moderation at all times, so I probably drink the same number of units now, but I spread it over the whole week, instead of bingeing, as it were."
His next task, he says, is to try to convince his wife to get fit. "I have given up trying to speak to her about being healthy, as she prefers to sit behind her computer rather than actually going out and being active," he says.
"We bought a house with a garden, and she prefers to sit at the computer playing Farmville than actually gardening!"
You might also like...