Edible Flowers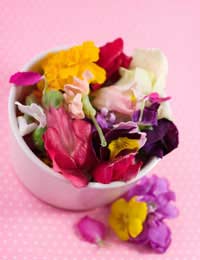 Flowers have been eaten since ancient times, and have medicinal as well as nutritional value. Oriental dishes through the ages have made use of Daylily buds and Chrysanthemums, the Romans used mallow, rose and violets, Italian and Hispanic cultures gave us stuffed squash blossoms and Asian Indians continue to use rose petals in many recipes. Nowadays, in the Western world, the most common use of flowers is in salads. But more and more people are becoming adventurous as they realize the flavour and health potential of flower blooms and buds. Edible flowers have lots of potential. You can in fact add them to sauces, tarts, preserves, pickles, fritters and soft cheeses.
Though many blossoms contain vitamin C and/or vitamin A, not all flowers are edible, so only experiment with ones you know are tried and trusted. Herb flowers usually offer the same flavour and attributes as the edible leaves, though they may be milder. If you suffer from asthma or allergic reactions to composite-type flowers (calendula, chicory, chrysanthemum, daisy, English daisy, and marigold) you should avoid eating flowers altogether as they may well cause you discomfort. If you're sampling edible flowers for the first time, the best way is to introduce them into your diet a little at a time to avoid digestive problems.
It is important to remember that flowers are only edible if they are either organically grown or treated with organic pesticides like those used on fruits and vegetables. Flowers from florists, nurseries or garden centres are grown for decoration and have often been chemically treated, either by fertilizers or pesticides. If you don't have the time or resources to grow your own edible flowers, many gourmet markets now stock them fresh or frozen.
If you're preparing homegrown flowers the best time to pick them is early morning when their water content will be at its maximum. Only use fresh blossoms that are undamaged by disease, weather or insects. You should be very careful to remove the stems and pistils and also any white inner petal tips from the bud as these often taste bitter. Wash the blooms thoroughly before adding them to your food. Above all experiment and enjoy.
Here are some tasty and nutritious flowers and creative ways of incorporating them into your cooking:
Calendula (calendula officinalis)
This relative of the marigold has a tangy, peppery taste that makes it great for salads or soups and tasty added to cream cheese for sandwiches. It also adds a beautiful saffron colour to your cooking. Medicinally it has antispasmodic properties and so can relieve ulcers, cramps and colitis.
Chamomile (Chamaemelum nobile)
Chamomile has a faint apple flavour that can add a refreshing note to salads and cold drinks as well as teas. This flower can promote a relaxing sleep, soothe asthma and may help relieve toothache.
Chrysanthemum (Chrysanthemum morifolium)
Chrysanthemum has a light, sweet flavour. It can be added to cool drinks and teas as well as garnishing desserts. The flower contains vitamins A and B and amino acids. It helps to calm the nerves and relieve cold and flu symptoms.
Dandelion (Taraxacum officinalis)
Fresh, young leaves have a spinach-like flavour suitable for salads, quiches and stuffing. Very young buds have a taste similar to mushrooms and are delicious sautéed in garlic. Dandelion has diuretic properties and so is beneficial in purifying your whole system.
Dianthus (dianthus caryophyllus)
Dianthus or carnations, have a light peppery flavour that makes a healthful addition to salads or flavourful garnish to cheese dishes.Medicinally, its anti-bacterial properties can help to alleviate gastric discomfort and promote health of the gastrointestinal system.
Elder Flower (Sambucus nigra)
These flowers can be eaten whole or sprinkled over a salad they have a lovely, sweet but delicate taste. If you add flower clusters when cooking berries, they will lend a heady Muscatel flavour to the fruit (remove flowers after cooking). Elder flower is a great anti-oxidant, helping to purify the blood and cleanse the system.
Lavender (Lavandula angustifolia)
The flowers look beautiful and taste good in iced drinks, with or without spirits. Lavender blends well with mint and makes a great garnish for sorbet or ice cream. The flower has a light floral taste that lends itself to savoury dishes also, vegetable stews that may otherwise be bland. This plant can relieve flatulence and sore throat but should not be consumed in large amounts.
Nasturtium (Tropaeolum majus).
All parts of the Nasturtium are edible and nutritious. The flowers are quite sweet, while the leaves have a mustard-cress flavour. The seeds can be pickled as a substitute for capers. The flowers and leaves make an unusual and decorative salad dish with pasta and snowpeas. Nasturtiums have several medicinal properties. It is antiseptic and expectorant and therefore good for head colds. It is also effective for curing and preventing urinary tract infections.
Rose (Rosa species)
Miniature varieties can be used to garnish ice cream and desserts, or larger petals can be sprinkled over desserts or salads. Freeze them in ice cubes and float them in punches. Their sweet, aromatic flavour is stronger if their fragrance is more pronounced. Remember, the stronger the scent, the stronger the flavour. Avoid bitterness by removing the white inner tips of petals. Rose flowers can ease headache. Both the hips and the petals are a great source of vitamin C and other anti-oxidants.
You might also like...