Nopal-Prickly Pear Cactus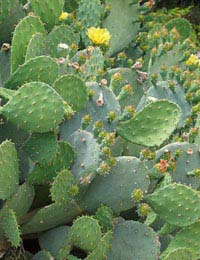 Prickly pears grow with flat, rounded segments that are covered with two kinds of spines; large, smooth, fixed spines and small, almost hair like spines that easily penetrate skin and detach from the plant. Prickly pears species are found in abundance in the Southwest and Western United States, and also throughout much of Mexico. They are the most cold-tolerant of the cacti. This plant has been employed both as a medicine ands a source of nourishment, since prehistoric times, and was traded by various ethnic groups in Mexico and other parts of tropical America, long before the arrival of the Europeans.
Prickly Pear as a Food Source
The sliced or diced tender young pads commonly known as "nopalitos" (meaning "little nopales"), and have been a traditional vegetable in the Mexican diet for centuries, and more recently, a specialty vegetable in the United States and Europe. Usually, prickly pear cactus is consumed as a fresh or cooked green vegetable. The cactus pads, or stems, are sliced, diced and cooked (boiled or broiled) much like string beans, and consumed as a salad or as part of a meal.
Prickly Pear Cactus contains large amounts of Vitamin B1, Vitamin B6, niacin, riboflavin, and pantothenic acid. But Prickly Pear Cactus is gaining a reputation for its action regarding blood sugar. Prickly Pear Cactus is believed to lower blood glucose levels, partly due to its coating of the gastrointestinal tract.
Prickly Pear in Herbal Therapy
The flamed or microwaved joints are split open and applied as a healing pad incases of rheumatic and asthmatic symptoms of the chest, liver trouble, earaches,skin abrasions and non-malignant tumors.
A sweetened infusion is drunk to lower fever and relieves chest pains.
Capsules containing dried nopal are a popular item in Europe and the USA and are used to treat diabetes, high cholesterol and obesity
Caution
Patients currently taking hypoglycemic pharmaceuticals should not discontinuetheir therapy in favour of using nopal as the sole treatment for anytype of diabetes. Monitor blood glucose levels closely.
The ingestion of high fibre plant material could, under some circumstances, causeloose stools or some other minor gastrointestinal impairment.
Hypoglycemia could theoretically be a possibility if the cactus potentiates theaction of oral anti-diabetic medications.
How To Peel a Prickly Pear Fruit
Place the fruit in a large bowl of chilled water. This helps to wash away some of the spines (not all). Use the following procedure to peel the fruit:
Fold 2 or 3 sheets of paper towelling together.
Handling the pear on its ends, lift if from the water and place the pear on the towelling
Keep the towels wrapped around most of the pear. Use a small sharp knife and make a slice along one side of the length of the pear cutting just through the skin.
Now use the toweling to protect your hands and peel the skin from the pear.
To serve, slice the pear horizontally into 1/4" thick slices and place on a plate.
You might also like...