Looking After your Circulatory System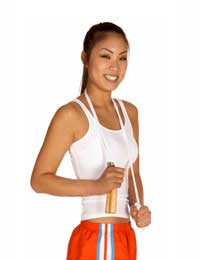 What's Going on?
Your circulatory system is made up of over 60,000 mile of blood vessels and pumps around more than 2,000 gallons of blood each day, to nourish each of the body's billion cells. During the course of an average life, the heart pumps tens of millions of gallons of blood. Starting from the right side of the heart, blood is transported to the lungs where carbon dioxide is removed and oxygen is replenished. Then the blood is pumped to the left side of the heart and sent to the rest of the body via the aorta. After depositing the necessary nutrients to cells and organs, the blood returns to the heart, carrying with it the waste products it has retrieved along the way. These are filtered and eliminated through the kidneys and lungs. At this point the oxygen content of the blood is almost exhausted and the process needs to start over again. Incredibly, this vital process takes only 20 seconds.
What Can go Wrong?
Most circulatory problems are caused by a blockage in an artery, which is known as atherosclerosis or hardening of the arteries. This is caused by injury to the protective inner lining of the artery wall, which exposes the collagen lining. That, in turn, attracts platelets and toxic substances from the bloodstream, which enter the artery wall. Eventually, the process leads to a build-up of debris, narrowing of the artery and finally, blockage. This prevents the heart form taking the nourishment it needs. The tiny coronary arteries become blocked and cease to function; the heart is starved of the oxygen and nutrients it needs and will starve and, at worst, die. There are several factors that contribute to circulatory problems, including high blood pressure (hypertension), high levels of cholesterol in the bloodstream, smoking, obesity, heredity, lack of exercise and emotional stress.
The Dangers of Cholesterol.
Cholesterol is a type of animal fat that is either manufactured by the liver or absorbed through the diet and certain forms of it are necessary for good health. Cholesterol helps the body metabolize carbohydrates and manufacture its own vitamin D. It also supplies the body with certain essential hormones. However, problems occur when cholesterol and other fats start lining the insides of arteries, narrowing them and making them susceptible to deposits of plaque. This hampers the flow of blood, and consequently, the supply of life-giving nutrients and oxygen.
What Can be Done?
Cutting back your intake of animal foods will cut back your intake of dietary cholesterol. Plants contain no dietary cholesterol. In addition, fat-modified diets can lower blood cholesterol by 30 percent or more by reducing saturated fat intake. Another important consideration is increasing the ratio of polyunsaturated fats to saturated fats. Hydrogenated vegetable oils have fewer polyunsaturated fats than do meats and dairy products. They actually have more saturated fats than butter, whole milk and meat, while offering few or no vitamins. Monosaturated fats are also beneficial. Olive oil and almond oil are high in monounsaturated fats.
Another important part of cholesterol management is eating a diet high in complex carbohydrates. Certain fibres in complex carbohydrates are able to carry cholesterol out of cells and tissues, including arteries, then to the liver where it is excreted. Carrots, cabbage and broccoli contain calcium pectate, a type of pectin with cholesterol- lowering effects. Limiting salt and sugar intake is also a good preventative measure against artery disorders. A diet high in salt and sugar can significantly worsen high blood pressure. Following these tips will also mean that obesity, another contributory factor to circulatory problems, will not be an issue.
You might also like...