Slimming Effects of Caffeine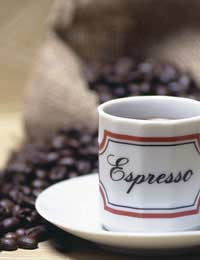 Women everywhere are trying to find new ways of losing weight. Some of these methods are safe and approved by specialists whilst others are dangerous and even potentially lethal.
Using drugs or artificial substances to aid weight loss is not a new concept but some of these ideas continue to put health at risk.Caffeine is often used as a way of losing weight with people using it either consciously by taking caffeine supplements or without necessarily being fully aware of it by drinking several cups of tea, coffee, cola or other drinks that contain the substance as a way of filling themselves up.
What Is Caffeine?
Caffeine is a naturally occurring substance that is found in many food and drink items such as coffee, tea, chocolate and fizzy caffeinated drinks.It usually has a diuretic effect on the human body meaning that it causes the kidneys to produce more urine and voiding the bladder has to be done more often.
Is It Harmful?
In large amounts, caffeine has the potential of seriously damaging health.It is known to cause palpitations to the heart which carries its own risks to health but is also bad for dental health and hygiene as coffee, cola and chocolate (all the products commonly known for their caffeine content) can stain, erode or rot teeth if taken frequently and in large quantities.There are however a few studies that have shown that it may be beneficial to the heart but only in those with no history of high blood pressure.
In addition to the harmful physical effects and side-effects of the products that contain caffeine is a risk of becoming addicted to the substance. Addiction to caffeine may cause both physical and psychological effects and mean a tough withdrawal phase when the problem is to be overcome.Many people who drink large quantities of coffee, tea or cola or those who have withdrawn caffeine from their intake often find that headaches and a fine tremor occur which shows another reason why caffeine can be dangerous.
How Might It Help Slimming?
Many people use caffeine as a slimming aid for two main reasons. The first reason is because of its effect on the fluid content on the body. As it acts as a diuretic is causes water to be lost from the body. This is not necessarily a bad occurrence as long as the fluid is replaced ideally with clear fluids such as plain water. However slimmer often use this effect to lose weight making themselves lighter.The second way it might aid slimming is because it is in many soft drinks which people often use to fill themselves up causing them to eat less. This excess fluid is excreted easily again because of the diuretic effect.Using caffeine as an aid to slimming is not recommended because of the potential risks to health.Though it may help stave off a craving the side-effects of drinking too much caffeine outweigh these benefits entirely.
Caffeine is commonly used as a slimming aid for many reasons some physical others psychological but an excessive intake is known to be harmful to health and carry many side-effects.Most healthy eating plans will suggest actually lowering the amount of caffeine we consume because of these reasons.
You might also like...