Findings About Chocolate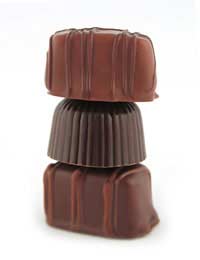 Are you a chocolate lover who finds it hard to resist the temptation? Do you feel guilty about your cravings for the sweet stuff? Well now maybe you can ease your conscience a little thanks new findings of the effects of chocolate on health. Studies have indicated that eating chocolate results in the presence of a higher amount of antioxidants in the blood steam. Antioxidants are chemicals responsible for clearing free radicals from the body. Free radicals are known to be responsible for the effects of aging, and diseases such as cancer, cataracts and Alzheimer's disease as well as heart disease. Apart from that there are also studies that show that chocolate may in fact be good for your heart.
Coronary heart disease (CHD) is a preventable disease that kills more than 110,000 people in England every year. More than 1.4 million people suffer from angina and 275,000 people have a heart attack annually. CHD is the biggest killer in the country. Heart and blood vessel problems develop over time, as arteries that supply the heart or brain with blood slowly become clogged from a build-up of cells, fat and cholesterol. This build up, called plaque can eventually lead to a heart attack or stroke.
Can chocolate really help? It seems that it can. We know that chocolate is made from cacao and cacao itself is a natural product containing over 600 different compounds. The amount of cacao in finished chocolate ranges from 7% to 35% in milk chocolate to 30% to 80% in dark chocolate. The primary antioxidants in cacao are members of the flavonoid subgroup called catechins. In addition to their role as antioxidants, catechins give cacao beans their colour.
A study by Joe Vinson, a chemist at the University of Scranton, reported in April 40 grams - a single candy bar - of milk chocolate contains more than 300 mg of polyphenols -about the same amount of polyphenols as in the recommended daily intake of vegetables (five servings).
However it must also be remembered that chocolate also contains a high amount of stearic acid, a saturated fat, and saturated fats are directly linked to elevated LDL cholesterol levels.
Ideas have already been suggested, to take advantage of the nutritional value of chocolate. Some nutritionists believe that confectioneries are ideal vehicles for delivering all kinds of nutrients and supplements to consumers. Sugar, as they notes, can cover unpleasant tastes from botanicals and other nutritional supplements. Chocolate, liquorice and other confectionery ingredients can carry their own direct nutritional boost.
Research is still in its early stages, although chocolate is now being called a 'functional food', that is to say it provides health benefits beyond its nutritional value. This does not mean however that people should start increasing their intake of chocolate, as it is also high in calories and saturated fat. As yet there are no daily intake recommendations for chocolate.
You might also like...