Fruits Are Your Friends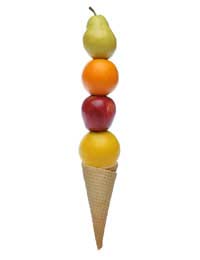 Fruit and vegetables are full of healty benefits. The ones that studies show to produce the most effective results, included, cabbage, bok choy, Brussels sprouts, broccoli, cauliflower, collards, spinach, as well as citrus fruits and citrus juice.
Preventing Strokes
Every year, over 150,000 people throughout Britain have a stroke. Most victims are aged over 65. A stroke is the third most common cause of death in the UK. It is also the single most common cause of severe disability. More than 250,000 people live with disabilities causes by stroke. Did you know that eating up to five more servings of fruits and vegetables each day can reduce the risk of ischemic stoke in men and women by up to 30 percent? An ischemic stroke is the most common type of stroke, representing 80 percent of all cases. It occurs when a clot forms in an artery leading to the brain, slowing or stopping the flow of oxygen-rich blood, causing part of the brain to die.
Reducing Cancer Risk
Numerous studies have shown strong link between eating fruits and vegetables and protection against cancer. Part of the World Health Organization known as The International Agency for Research on Cancer, recently conducted a study of the best research on fruits, vegetables, and cancer. It showed that there is evidence that eating fruit and vegetables can prevent certain types of cancer including cancer of the mouth, stomach, colon, lung, ovary and kidney.
Gastrointestinal Health
One of the wonderful components of fruits and vegetables is their indigestible fibre. As fibre passes through the digestive system, it soaks up water and expands significantly. This can be beneficial to gastrointestinal health because studies have shown that fibre relieves and prevents constipation by maintaining regular bowel movements. This reduces the risk of disorders such as irritable bowel syndrome and Crohn's disease.
Total Health
Fruit and vegetables are essential for our diet and have a wide range of healthful effects. The phytochemicals in fruits and vegetables are non-nutritive substances that may have a variety of biological effects in the body -- some acting as antioxidants, or helping the immune system and others altering enzymes that help drugs work better in our system. Scientific studies also indicate that eating more fruit and vegetables can aids in the prevention of major cancers, coronary heart disease, atherosclerosis, asthma, diverticulosis, obesity, and diabetes.
Although many adults appear to realize that fruit and vegetables are a very important part of their diet, it seems that not very many people realize just how very important they are. So perhaps its time we all put fruit and vegetables at the centre of their plates and eat for better health and a longer life.
You might also like...