The Soy Story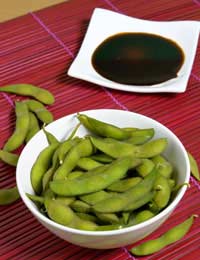 Soybeans and soy foods are definitely good for your health. Hundreds of clinical studies to date have shown that soy foods have major potential for fighting disease. In fact, we now know that people who consume a diet high in soy have a lower risk of many diseases.
Soy and Heart Disease
Soy foods may help lower the risk of heart disease in two ways. Firstly, they contain high quantities of phytochemical compounds called isoflavones. Isoflavones can dramatically reduce the risk of heart disease. They can be found on plenty in soy beans, soy milk, TVP and tofu. Secondly, soy foods free from cholesterol, low in saturated fats and also contain certain proteins which are able to actually lower blood cholesterol levels and reduce heart disease.
Soy and Cholesterol Reduction
Clinical studies show that you need 25 grams of soy protein in you diet each day to help reduce cholesterol. To gain these health benefits, you would need to consume the equivalent of four cups of soymilk daily. This addition of four servings of soy products a day would be expected to decrease LDL cholesterol levels about 5-7 percent.
Osteoporosis
Other studies have shown that soy foods can play an important role in the prevention and treatment of osteoporosis. Osteoporosis causes the loss of bone mass and strength. It affects both men and women, but is primarily found in post-menopausal women. A study at Division of Nutritional Science, University of Illinois, found that post-menopausal women, who consumed soy foods regularly, had stronger bones. Other studies have found that bone density increases with the consumption of ipriflavone, (a chemical isolated from soybeans), and bone quality improves. Soy has also shown promising results in the prevention of heart disease, stroke, cancer, and hot flashes during menopause.
Soy and Cancer
Cancer is the UK's number two killer, second only to heart disease. There is a growing body of evidence linking soy foods to cancer prevention. One study, conducted in the USA, found that soy produces a molecule in the intestine that combats a hormone which can lead to prostate cancer. There have been a number of studies that confirm that soy foods offer protection against breast cancer, while other have shown that the isoflavones in soy may have estrogen-like effects and that these can adversely affect women with breast cancer. The information regarding soy and breast cancer therefore remains inconclusive and more research is needed.
Soy and Diabetes
Studies conducted into soy's effect on diabetes have discovered that people who eat soy foods have less glucose in their urine. This could be because soy increases absorption. Soy contains soluble fibre, which can also help maintain glucose levels.
Sources of Soy and Isoflavones
Sources of soybeans and isoflavones include miso, bean curd, soy milk and soy sauce. There is also an increasing number of soy based products available in many food stores, these include, veggie burgers, soy based cheese, hot dogs, soy yoghurts and ice cream and soy chunks. Soy products contain carbohydrates, protein, iron, calcium, vitamins and folic acid.
You might also like...