Weight Maintenance During Pregnancy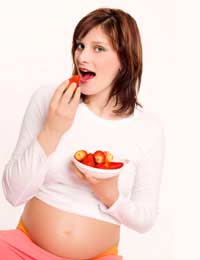 Healthy Weight Gain During Pregnancy
Obviously you cannot maintain your regular weight during pregnancy. It is inevitable that you will begin to gain weight gradually as the baby grows. This is important because low weight during pregnancy can result in a low birth weight. On average, expectant mothers gain 20-30 pounds (10-15 kilos) by the end of their pregnancy. Most of this weight will have been gained during the last two trimesters. So where is this extra weight? The foetus itself weighs about seven pounds (3.5 kilos), the mother's enlarged uterus is another two pounds (1 kilo) and the placenta and amniotic fluid take up two pounds about one pound (1/2 kilo) each. The remaining four to eight pounds (2-4 kilos) consists of extra blood and extra cellular fluid, and about four pounds (2 kilos) of body fat. Bear in mind that this is a general estimate and the actual weight gain will vary from person to person.
Maintaining a Healthy Diet During Pregnancy
The way you eat while you're pregnant will affect your growing child more than anything else you do. So it is extremely important to ensure that you are getting a balanced diet that is full of essential nutrients. You don't have to give up all the foods you love during pregnancy, just make sure that you make healthy choices. Here are some basic do's and don'ts to hep you maintain a healthy weight during your pregnancy:
Don't succumb to those junk food cravings. Junk food is full of empty calories. If you really have the urge for a burger opt for a veggie burger and pile on the salad for extra nutrients.
Do avoid caffeine and alcohol. Caffeine and alcohol actually prevent absorption of folic acid and iron - two essential nutrients during pregnancy - and pull calcium out of your bones, not to mention that they also directly affect the foetus and can have long-term developmental effects.
Don't eat uncooked or cured meats. Raw meats and eggs can be dangerous during pregnancy because they can carry bacteria that can affect you and your growing child. So avoid procciutto, runny eggs, shrimp cocktails and ceviche. Meats preserved with nitrites, such as salami, frankfurters, luncheon meats and smoked fish and meat, are also not a good idea.
Do avoid fat. You only need 5 percent fat in your diet to stay healthy. And you don't have to worry about not getting enough fat either. Almost all foods have some fat. Even fruits have 3 to 14 percent fat, grains have 3 to 10 percent fat, and veggies have 1 to 10 percent fat.
Do avoid the following additives:
MSG - Monosodium glutamate is a flavour enhancer in bouillon and Asian foods that can cause headaches and stomach upset.
Artificial food colourings - Colourings are in many processed foods, and most are considered safe during pregnancy. The ones to avoid are: blue 1, blue 2, green 3, red 3 and yellow 6.
Olestra (Olean) - It just hasn't been tested thoroughly enough to be recommended during pregnancy.