What is Obesity?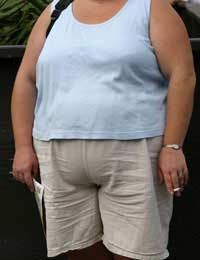 Obesity is a Serious Problem
About 46% of men in England and 32% of women are overweight (a body mass index of 25-30 kg/m2), and an additional 17% of men and 21% of women are obese (a body mass index of more than 30 kg/m2 ). Overweight and obesity increase with age. About 28% of men and 27% of women aged 16-24 are overweight or obese but 76% of men and 68% of women aged 55-64 are overweight or obese.
Overweight and obesity are increasing. The percentage of adults who are obese has roughly doubled since the mid-1980's. The prevalence of obesity increases with age throughout childhood. In 1996, around 13% of 8 year olds and 17% of 15 year olds in England were obese. These levels of childhood obesity are likely to exacerbate the trend towards increased overweight and obesity in the adult population: compared to thin children, obese children have a two-fold increase in the risk of becoming overweight adults.
What is Obesity?
A person is considered obese when his or her weight is 20% or more above normal weight. The most common measure of obesity is the Body Mass Index or BMI. A person is considered overweight if his or her BMI is between 25 and 29.9; a person is considered obese if his or her BMI is over 30."Morbid obesity" means that a person is either 50%-100% over normal weight, more than 100 pounds over normal weight, has a BMI of 40 or higher, or is sufficiently overweight to severely interfere with health or normal function.
What Causes Obesity?
Obesity occurs when a person consumes more calories than he or she burns. For many people this boils down to eating too much and exercising too little. But there are several other factors that also play key roles in obesity. These often include:
Age.
As you get older, your body's ability to metabolize food slows down and you do not require as many calories to maintain your weight. This is why people note that they eat the same and do the same activities as they did when they were 20 years old, but at age 40, they begin to gain weight.
Gender.
Women have a tendency to be more overweight than men. Men have a higher resting metabolic rate (meaning they burn more energy at rest) than women, so men require more calories to maintain their body weight. Additionally, when women become postmenopausal, their metabolic rate decreases. That is one reason why many women gain weight after menopause.
Genetics.
Obesity tends to run in families. Studies of adults who were adopted as children, show that adult weights were closer to their biological parents' weights than their adoptive parents'. This shows that the environment provided by the adoptive family apparently had less influence on the development of obesity than the person's genetic makeup. In fact, if your biological mother is heavy as an adult, there is approximately a 75% chance that you will be heavy. If your biological mother is thin, there is also a 75% chance that you will be thin.
Physical Activity.
Active individuals require more calories than less active ones to maintain their weight. Additionally, physical activity tends to decrease appetite in obese individuals while increasing the body's ability to preferentially metabolize fat as an energy source. Much of the increase in obesity in the last 20 years is thought to have resulted from the decreased level of daily physical activity.
Psychological Factors.
Psychological factors also influence eating habits. Many people eat in response to negative emotions such as boredom, depression or anger. 30% of people who seek treatment for serious weight problems have difficulties with binge eating.
Medication.
Certain drugs, such as steroids and some antidepressants, may cause excessive weight gain.
You might also like...